Hello World !
2 votes – Yes, that is a brilliant idea !
1 vote – Well, I don't know yet. I need more information !
1 vote – No, that is a ridicules idea !
9 Twitter "re-tweets" and
11 Facebook "likes" –
well, all this is enough motivation for Sustainche™ & Lisa to further on elaborate
The Sustains™ VolunTours.
Starting from today and step by step we'll present the Sustains™ VolunTours experiment.
1. Nothing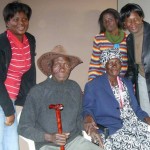 will be done what the Sustainche Farm™ Family does not like !
2. Starting from 2014 Sustainche™ & Lisa and the Sustainche Farm™ Family want to give young volunteers from Europe the amazing opportunity to visit Sustainche Farm™ during a period of usually 14 days and a maximum of 28 days to experience real Africa and real African farm family life !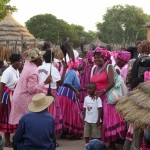 3. Sustains™ VolunTours is an outstanding active holidays experience in Northern Namibia that goes far beyond usual 'photo safari Africa'. 'Real Africa' is something different. Even 20 years after independence there is no such an experience offered in Namibia yet !
4. Sustainche Farm™ life is a 'back to the roots experience'.
If you are tired of 'normal' life in Europe, having too much of everything (except time for yourself !) and wishing to experience something completely different, than you are a typical Sustains™ VolunTour.
5. The Sustai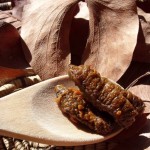 nche Farm™ Project with Sustains™ VolunTours also encourages students of various sciences to take advantage of gaining utmost practical experience on the ground and in an amazing African environment.
6. Sustainche Farm™ life is something to enjoy, but it is also hard work – every day.
We expect Sustains™ VolunTours to participate in the daily house and farm work. This – depending on the season and farm calendar – might include working in the mahangu fields, taking care of chicken, goats and cattle. Sustainche Farm™ piggies wake up very early, b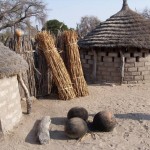 ut enjoy the day among themselves

7. Special projects naturally occur when Tatekulu F. for example renovates traditional roofs or Meme T. needs new pottery for the kitchen. In this respect Sustains™ VolunTours have the opportunity to enjoy learning about traditional Owambo culture at first hand.
8. Fancy working for a while in Sustainche Farm's™ "100% home-made Marula Oil / Odjove Project"?
Marula oil / o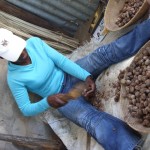 djove production at Sustainche Farm™ is perhaps the most comprehensive example of how we understand Sustainable Development. Sustainche Farm™ wouldn't be Sustainche Farm™ if the farm family wouldn't utilize all parts of the marula fruit. Enjoy learning traditional Owambo skills* !
* Sorry guys, this Sustains™ VolunTours project is reserved for femals only

9. Sustains™ VolunTours take care by themselves for their air travel to/from Namibia and also organize their trip to Ondangwa Airport (AirNamibia flight from Windhoek Eros) or Oshakati (Windhoek bus station).
If you need any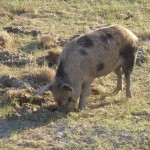 help with your booking please don't hesitate to ask for our assistance. We'll pick you up from Ondangwa Airport or Oshakati bus station. Transfer to/from Sustainche Farm™ is included in your Sustains™ VolunTours fee.
10. From nine years experience in Etosha National Park and additional three years in the rural North, Tatekulu M-Sustain™ knows that Sustains™ VolunTours first of all feel that they struggle of what they believe is 'to survive'.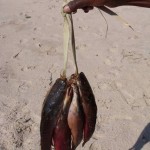 Don't be scared ! We'll use the first days of your visit to introduce you to your new environment, which indeed is very different of what you might have experienced before.
11. Apropos 'different': True – Namibia in general is called a 'dry country'. However, Central Northern Namibia also experiences 'efundja' flooding events during good rainy seasons.
Fancy enjoy fishing catfish together with Tatekulu F. ?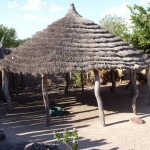 12. A clean environment is inherited in Owambo tradition. We take utmost care to keep the farm house, the farm and its surrounding environment as tidy as possible. In this respect we also expect Sustains™ VolunTours to support our efforts.
Nevertheless, and especially during the dry season, there is a lot of dust in the atmosphere and you can't expect to find yourself under 'aseptic conditions'.
In general terms the following vaccinations are recommended for any visitor to Namibia: hepatitis A, tetanus, typhus, polio and rabies.
   +++ To be continued +++