Hello World !
2 ½ years after going online, Sustainche™ & Lisa feel that the Sustainche Farm™ Project in Northern is prepared to make the next major step ahead.
You might recall that the Sustainche Farm™ Project from its very beginning follows the approach:
From Motivation to Mobilization to Implementation.
This approach already led to the production of 100% traditionally homemade Marula oil, which successfully was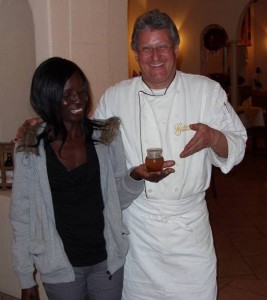 sold to Gathemann Restaurant in Windhoek, the capital of Namibia. At the same time our Marula oil production considerably contributed to what was identified as two major Sustainche Farm™ challenges:
Diversification of the farm family's income;
Promotion of local farm products and regional food specialities.
Yet, it is time to tackle a third challenge, namely the
Brain drain of the young generation from the rural areas in Northern Namibia;
and at the same time again contribute to the
Diversification of the farm family's income.
In this respect Sustainche™ & Lisa have in mind to organize what they call
The Sustains™ VolunTours.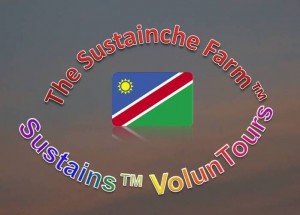 Remember:
With its size of 8 ha land, Sustainche Farm™ is not a farm in the European Union, but a farm in Africa. Small-scale farmers in Northern Namibia do not receive any yearly subsidies like their EU colleagues enjoy collecting from Brussels. Hence, Sustainche Farm's™ ultimate goal is to make the farm family self-sufficient; some people might call it 'self-sustainable'. And: Sustainche Farm™ – following Owambo traditions – respects a sustainable development approach, which includes economic, social & cultural as well as environmental aspects at the same time.
On the other hand and although having provided extensive information with this website during 2 ½ years, Sustainche™ & Lisa have the strong feeling that it is still not clear enough to the world that Sustainche Farm™ in Northern Namibia IS NOT one of these 20,000 ha European style guest farms in Central and Southern Namibia. Various requests still show that it is still a long way for foreigners to understand the real daily life on a normal small-scale farm in Northern Namibia.
This is what we want to change with
The Sustains™ VolunTours.
Starting from 2014 Sustainche™ & Lisa want to give young volunteers from Europe the amazing opportunity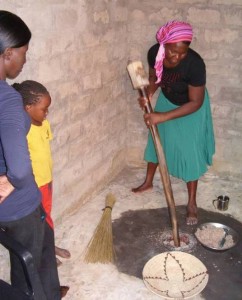 to visit Sustainche Farm™ during a period of usually 14 days and a maximum of 28 days to experience real Africa and real African farm family life !
As it refers to the entire Sustainche Farm™ Project as such, the Sustains™ VolunTours programme is an experiment. We want to find out whether (or not) Sustainche Farm™ benefits from young motivated volunteers and at the same time whether these youngsters can enjoy being part of a world they usually would never have the opportunity to experience.
Having said all this we ask the following question:
Do you like The Sustains™ VolunTours idea ?
Beyond the poll please feel invited to write us your comment !
Sustainche Farm™ community members shall log in and leave a reply.
All others are kindly invited to use the Sustainche Farm™ Project contact form.