Well, there is still to describe what happens when the cold pressed marula oil / odjove leaves the traditional pounding room at Sustainche Farm™. Let's take a look to the following three pictures as part of the slide show (please click the link to open for your convenience):
Step 5: You might remember that H-Sustain™ starting the two-fold extraction process by adding not more than a spoon-full of fresh water to the marula seeds in the mortar (oshini). Right, this little bit of water is finally to be taken out by slowly, slowly and carefully heating up the marula oil. Traditionally, this is done on open fire in order to quickly being able to regulate the heat.
Just take a closer look to the sequence of the three pictures: The first picture (to the left) shows the original colour of odjove immediately after extraction. While carefully heating up, the few percent of water start to evaporate. This is what you can recognize in picture two (middle). It is most essential to take care that only the water disappears, and that the oil is not boiled at all. By following this Owambo traditional process, marula oil / odjove now starts to change its colour into a darker, caramel brown (picture three to the right). If we start to identify this kind of colour change, everything is good. Now it only remains in the hands of Meme Tresia to make her famous final quality taste check. Only if this personal check is positively passed, Sustainche Farm's™ odjove is allowed to leave the Sustainche Farm™ kitchen !
Traditionally, marula oil / odjove is not filtered. This is why you may find some nutty residuum at the bottom of the glass bottle. Well, E-Sustain™ since her childhood is famous among the family members for waiting for exactly this part of odjove to arrive on her plate … yummy …

However, we are of course prepared to consider a final filtration process of Sustainche Farm™ marula oil in order to meet the demands of our customers.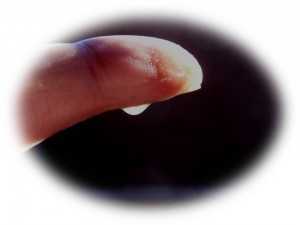 Enjoy the traditionally produced
Sustainche Farm™ Marula Oil / Odjove in your home kitchen
and Restaurant Gathemann in Windhoek, Namibia !
 … or …
what about utilizing 100% pure Marula Oil / Odjove
- the real gold of Southern Africa -
for an outstanding experience of sensual Owambo massage  ?
We are looking forward to the next Marula Oil / Odjove episode …