The month of August – beyond December – is very popular for marriage (French language mariage) in Northern Namibia. Well, we are all well aware what happens when you get married:
"What is shared, becomes more !"

This also refers to the mariage of Namibian slow food specialities and international kitchen art (French art culinaire) … 🙂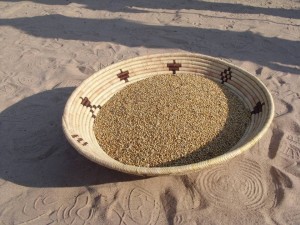 You might remember from reading Sustainche Farm™ products: The 'Mahangu' Episode, Part II that Meme Tresia is famous for her traditionally prepared "Oshifima" mahangu porridge and "Oshikundu". Sustainche & Lisa with pleasure can confirm that there is nothing better than starting the day with a refreshing and healthy "Oshikundu" drink.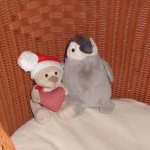 While handing over the first 10 kg of unprocessed mahangu (pearl millet) to Restaurant Gathemann in Windhoek on 16 June, 2012, Sustainche & Lisa already were curious to learn, what Mr. Urs P. Gamma "will do to" the Sustainche Farm™'s good, clean and fair produced mahangu. In fact, it is rather unusual in Owambo kitchen to utilize the pearls as such, but to pound mahangu flour in order to make Oshifima porridge and Oshikundu.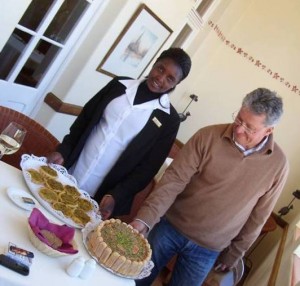 Well, "the miracle" immediately arrived on the table after Sustainche & Lisa returned from their journey to Europe where they assisted to start establishing the Sensualitectur Foundation: "Tasting & photo shooting time !", this was how Urs Gamma welcomed back the two small Sustainable Development & Slow Food® activists in his restaurant.
"The miracle" indeed was a twofold delicious mariage of Sustainche Farm™ mahangu pearls and Gathemann Restaurant's international top quality kitchen art: a spicy mahangu quiche tartelette – a perfect "winter dream" (on the left side of the picture) – and a sweet mahangu cake (on the right and the picture below). What a pleasure del gusto !
Unfortunately website technology is still not able to allow you to smell and taste … . Never mind – enjoy taking a look to the pictures 😉
Mr. Urs Gamma just informed us that art culinaire mahangu quiche tartelettes were freshly prepared for the VIP table of high ranked Namibian Government officials on the occasion of the opening event of a new lodge in Northern Namibia. Well, it appears that thanks to Restaurant Gathemann in Windhoek, Sustainche Farm™ products enjoy a superb promotion … 🙂
Thank you !
 Enjoy Sustainche Farm™ products at
Restaurant Gathemann in Windhoek, Namibia !